Resources on Personal Branding Tools for Social Workers
As you may know, I'm a partner with #MacroSW where we gather on Twitter each week to discuss all things related to Macro Social Work practice. We discussed personal branding last Thursday, and I'd like to share some resources with you from the chat.
Here's the chat description:
"Developing a personal brand is not just for actors, rock stars, and tech entrepreneurs but for social workers too. As you prepare for graduation or the next step in your career, a strong brand can help you find great opportunities.

How you portray your work and the issues you care about to the outside world shapes your career and reputation. Also, when social workers clearly articulate their skills and capabilities it can define roles for us in different job settings and change the perception of our profession."
Here are a few resources that were shared during the chat.
The Your Social Work Brand Series at The New Social Worker Magazine
This series of blog posts written by #MacroSW partner Kristin Battista-Frazee covers topics related to personal branding specifically tailored for Social Workers. New posts are added every first and third Wednesday of each month.  Read the latest post: You're More Than Your Job: A Wholistic Approach To Personal Branding.
---
Infographic on Personal Branding and Social Work from Social Work.Career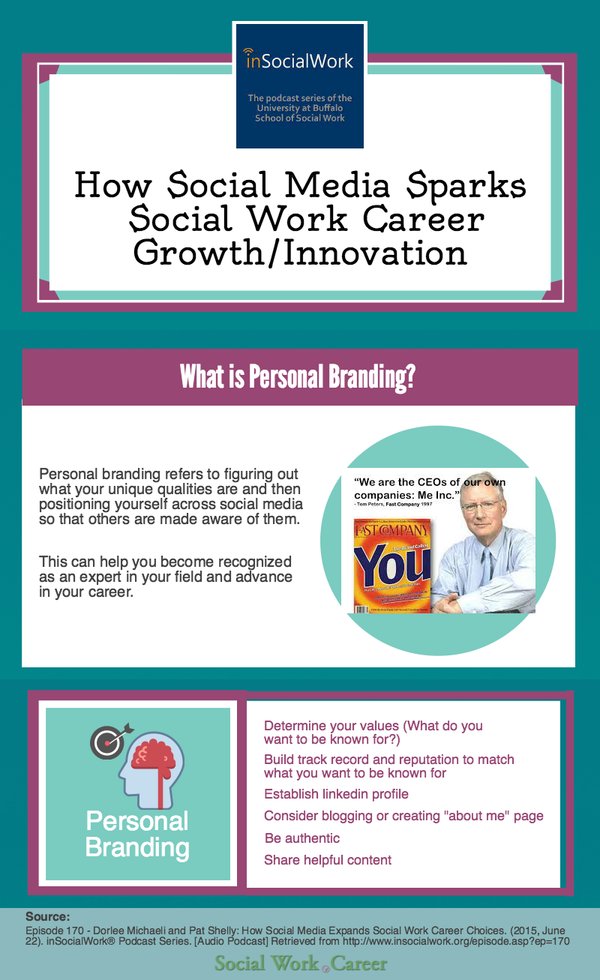 Listen to The InSocial Work Podcast Episode 170: How Social Media Expands Social Work Career Choices
---
Read this post on the differences between Value Propositioning Statements and Positioning Statements.
---
From Idealist Careers: A Quick Guide to Writing Your Elevator Pitch (With Examples)
"Elevator pitches will always be a necessary evil of the job hunt. We can change the name, eliminate the elevator, and avoid the awkward intros – but that, "So tell me about yourself/what do you do?/who are you?" question is inevitable, and we know it. Though everyone has different ideas of what makes a great elevator pitch, when we get back to basics we realize that there are only three true rules to consider…"
---
From The New Social Worker: The Anatomy of an Elevator Pitch
"From that first "hello" – not the song by Adele, but when you meet someone at a social work conference – it's the opening that can take your career or services you provide to a new level. What you say in these moments can make a difference in nabbing key opportunities. Understanding the parts and anatomy of this "elevator pitch" will make it easier to develop a unique introduction tailored to your goals."
---
These were just a few resources from the chat, visit the original chat description page and the full chat archive for more resources, and connections to follow.
From Aspiring Humanitarian, Relando Thompkins-Jones, MSW, LLMSW
—————————————————————————————————————————
—————————————————————————————————————————
Get New Notes in Your Inbox