"The Hunted and the Hated: An Inside Look at the NYPD's Stop-And-Frisk"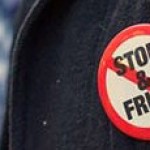 I came across this video online through The Nation's Youtube Channel.  Contains strong language.
Video Description: "A secret audio recording of a stop-and-frisk in action sheds unprecedented light on a practice that has put the city's young people of color in the NYPD's crosshairs." Read the full story
Directed by Ross Tuttle
Produced by Ross Tuttle, Erin Schneider, Stephen Maing
Camera by Ross Tuttle, Stephen Maing
Editing by Stephen Maing, Carla Ruff
This practice has to end. Now.
Grace & Peace,
From Aspiring Humanitarian, Relando Thompkins, MSW
—————————————————————————————————————————
—————————————————————————————————————————
Get New Notes in Your Inbox