Get Out The Vote!
I was struck with emotion when I went to the polls this morning. In addition to feeling a sense of urgency about the many issues that are at stake in today's election, I also experienced feelings of pride, sadness and gratitude.
I remain grateful and appreciative of those who put their lives at risk,  and for those who gave their lives; continuing to demonstrate and protest in the face of beatings, bombings, and other forms of intimidation.
There are some whose names, stories, and faces I know well. However there are others whose contributions, although I may never know about them, also served to appeal to the conscience of America and  ensure that my act of casting a vote would be a  right and not a privilege.
Election Day is today. If you haven't already, I encourage you to do whatever you can to make it out to the polls and vote. The polls here in Michigan will be open from 7:00am to 8:00pm. For readers in other parts of the country, please check with your state to see what your polling hours are. Tell a friend, take a friend. Get out there however you can.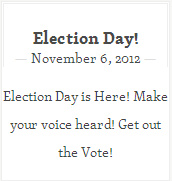 Grace & Peace,
From Aspiring Humanitarian, Relando Thompkins, MSW
—————————————————————————————————————————
—————————————————————————————————————————
Get New Notes in Your Inbox