Sometimes, Looking Back Can Help You To Move Forward
"Where I am today, is not where I used to be."
A few years ago, while giving me an update on how they were doing, a friend of mine shared a really inspirational story.
Although some time has passed, and I'll be paraphrasing, I'll do my best to share it with you in hopes that it will inspire you as well. I like it because it gets to a point quickly.
It was a cold and snowy night in the thick of a Michigan winter. Two friends of mine had been shoveling snow to clear the driveways of their neighbors, as well to clear a pathway for people to be able to walk to their local church.
They had been at it for hours, and it seemed as if the more snow they cleared, the more snow seemed to appear to take it's place. As the story went on, my friend began to describe how tired he was becoming. He began to feel sore, to experience some aches and pains, and didn't know if they would be able to finish the job.
He expressed how he was feeling to my other friend who was shoveling with him, who responded by saying:
"Brother, look back".
So back he looked. They had been clearing the way in a particular direction, and upon looking back, he was able to see just how much they'd done, and just how far they'd come.
That visual was enough to re-energize him to keep moving forward and fulfill the act of service that he had committed himself to do.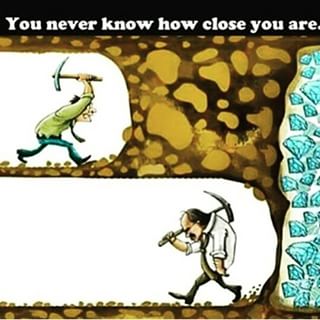 Sometimes, Looking Back Can Help You To Move Forward
I was moved by the story then, and have kept it close to my mind because when things get hard to a point where we might feel like giving up, we don't always know how close we are to reaching our goals.
No matter what you might be working towards, or what you may wish to accomplish, going back and reflecting on how far you've come can show you that where you are today, is not where you used to be. This realization can help to foster feelings of accomplishment, gratitude, and thankfulness.
Realizing that where you are today is not where you used to be can also be an affirming reminder if things aren't feeling right in this period of your life, that where you are today, does not have to be where your story ends.
We aren't always aware of how close we are to the other side of the struggle, but looking back and taking an inventory of what we've done can provide us with perspectives that might be exactly what we needed to push through.
From Aspiring Humanitarian, Relando Thompkins-Jones, MSW, LLMSW
—————————————————————————————————————————
—————————————————————————————————————————
Get New Notes in Your Inbox