Honor The Bridge Builders
I attended a homecoming event sponsored by the Black Alumni Association of my undergrad institution last weekend.
It was a great event, with a warm atmosphere, and it was really wonderful getting to meet Black alumni from as early as the 70s, reconnecting with former classmates, and being introduced to current students who now travel my old stomping grounds.
One of the things I really appreciated about this event was being able to hear some of the oldest Black alums speak about their experiences. They candidly spoke of a time when Black students were not welcome in any sense on campus.
As they shared about their lived experiences, they also mentioned the names of Black students and staff whose advocacy and involvement was crucial to building bridges, opening doors, and increasing access for future Black students to be able to attend, and graduate from the university.
I mean, they talked about folks making moves, taking action with no support from the administration. They talked about taking actions to increase access when the idea was unpopular; when they did not know whether or not they would have a job the next morning.
And they did it because it was the right thing to do.  I'm a living, breathing, beneficiary of their advocacy, and it's still the right thing to do.
BUILDING BRIDGES
In closing, they shared a poem with the crowd that I'd like to share with you here. It spoke to me in so many ways. I hope it speaks to you too.
I recommend referring back to it when you're feeling stuck.
The Bridge Builder
–By Will Allen Dromgoole
An old man going a lone highway,
Came, at the evening cold and gray,
To a chasm vast and deep and wide.
Through which was flowing a sullen tide
The old man crossed in the twilight dim,
The sullen stream had no fear for him;
But he turned when safe on the other side
And built a bridge to span the tide.
"Old man," said a fellow pilgrim near,
"You are wasting your strength with building here;
Your journey will end with the ending day,
You never again will pass this way;
You've crossed the chasm, deep and wide,
Why build this bridge at evening tide?"
The builder lifted his old gray head;
"Good friend, in the path I have come," he said,
"There followed after me to-day
A youth whose feet must pass this way.
This chasm that has been as naught to me
To that fair-haired youth may a pitfall be;
He, too, must cross in the twilight dim;
Good friend, I am building this bridge for him!"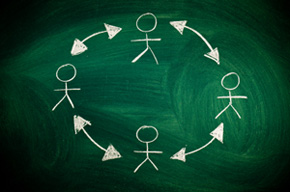 Here's to honoring the bridge builders, and to using ourselves to build bridges for others.
Who have been the bridge builders in your life?
From Aspiring Humanitarian, Relando Thompkins, MSW, LLMSW
—————————————————————————————————————————
—————————————————————————————————————————
Get New Notes in Your Inbox