The People Who Inspire Series: Holly Kearl
The People Who Inspire series highlights individuals from a variety of backgrounds and occupations who are seeking to impact the lives of others in a positive way. Through Truth-Telling: the honest sharing of their own experiences, they teach us a little about themselves, hopefully enabling us to be able to learn a little about ourselves through their stories.
Today's Post features Holly Kearl, author, speaker, activist and founder of StopStreetHarassment.org, an organization that works to raise awareness about the global problem of gender-based street harassment and illustrate how it is a human rights issue that impedes gender equality.  The website also serves as a resource center where visitors can access lists of statistics, articles, films, and campaigns around street harassment as well as ideas for action to stop street harassment in their communities.
Could you tell us a little about your background and what led you to your current work?
As a young teenager I learned that some of my close female family members were survivors of rape, incest, and domestic violence. It made me acutely aware of those issues and inspired me to volunteer at a domestic violence shelter in high school. I've been involved in addressing gender violence issues in some way ever since, including volunteering with RAINN for two years and organizing a sexual assault awareness campaign when I was a college student at Santa Clara University in California.
I am a long distance runner. I ran my first 5k at age 8 and my first marathon at age 14. I always experience the most street harassment while running alone. In college there were days when I ran alone for an hour and 10 different men harassed me. Twice men followed me, terrifying me. The sheer volume of harassment on my runs made it impossible for me to ignore it.
I attended graduate school at George Washington University in the public policy/women's studies program. I had to write a master's thesis and chose to write it on street harassment because of the experiences I'd had and because I'd started reading about other women's experiences on websites like the Street Harassment Project and Hollaback NYC. The lack of research, books, and general information on the topic led me to continue working on the issue after I graduated, and each year, I find myself more and more involved in speaking out on the issue.
How did StopStreetharassment.org come about?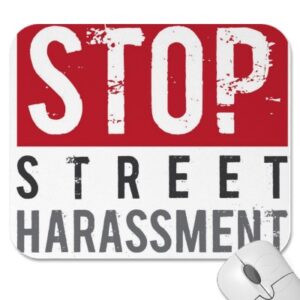 For my master's thesis on street harassment, I looked at how women were using websites to vent and raise awareness about and share tips for addressing street harassment. In 2008, about a year after I turned in my thesis, I found that two of the websites I studied and had thought were the most informative were no longer active. At the encouragement of my male partner, I launched my own informational website and a blog where people anywhere in the world could share their stories.
While discussing various social identities and their interactions and intersections in society in terms of privilege and oppression, Notes from an Aspiring Humanitarian (N.A.H.) also seeks to focus on the importance of Allyhood. In your view, what can allies do to advance the cause of StopStreetHarassment and work toward gender equality?
There are many ways people can be effective allies on the issue of street harassment, here are three of them.
1 – Believe someone and not blame them when they share a street harassment story. After being violated, humiliated and scared, the last thing someone needs to hear when they share their story is that it was their fault because of what they were wearing or where they were or to hear their story dismissed as "no big deal." Offering emotional support and brainstorming ways to deal with future harassers can help the harassed person recover and feel empowered.
2 – If one's friends are harassing people, talking to them privately about how that's not okay with you can go a long way toward preventing future harassment.
3 – If one witnesses street harassment, creating a distraction, seeing if the harassed person is okay, or loudly stating, "That's harassment and it isn't okay" are examples for how to safely intervene. Just as it can be upsetting to a person who shares a harassment story to be disbelieved, it can be really upsetting to be harassed in a crowded area and have no one else say or do anything to help.
Additionally, allies are always welcome to share stories on the Stop Street Harassment blog about how they helped prevent or stop street harassment and they're welcome to write guest blog posts about the issue in general.
March 18-24, 2012, is International Anti-Street Harassment Week and community members, activists, students, and bloggers will join forces to speak out about gender-based street harassment and work toward solutions. All allies are encouraged to join anything happening in their area, to start their own action, and/or to participate online.
Do you have any other issues that you're interested in working on or working with others in terms of social justice/equity?
My day job is as a program manager at the American Association of University Women. I manage programs that address workplace discrimination, like pay equity, pregnancy discrimination, parental leave discrimination (for both women and men), and sexual harassment. I also work on programs that address sexual harassment and assault on college campuses and in schools. Last month I co-authored a national study called Crossing the Line: Sexual Harassment at School.
Redefining unhealthy definitions of masculinity and promoting gender flexibility and acceptance are issues I think can help prevent a lot of discrimination and gender violence. I'm excited to be meeting with Men Can Stop Rape next week to explore ways to work together to especially help young men since too often young men are boxed into a role that makes them violent, aggressive, and intolerant of gay men and women. Breaking down that box is key.
Other social justice areas I support through donations, signing petitions, and attending events are LGBQT rights, rights for persons with disabilities, and many international activities to end gender violence, including rights for women to drive in Saudi Arabia, and end to rape in the Congo, and the end of stoning women in Afghanistan.
What are the parts of your work that you find most enjoyable?
I love meeting anti-street harassment activists (online and/or in person) and learning about the work they're doing in their communities to make public places safer. I especially love learning about what street harassment looks like in other countries and how people in those countries are tackling the problem. I learn so much from them. It's also really nice when people write to me to say the website or the stories they've read on my blog have helped them feel less alone or have empowered them to respond to their street harassers. That makes the late nights and weekend hours I spend on my "hobby" completely worth it.
What aspects do you find challenging?
There are no easy answers for ending street harassment or stopping a specific street harassment incident. Racism, homophobia, transphobia, ableism, classism, patriarchy, and cultural norms can all contribute in different ways at different times to fostering and perpetuating street harassment, so prevention work has to be mutli-dimensional and multi-layered. It's hard to convey these complexities in talks or blog posts and it's hard to find solutions that will work in every situation. Similarly, it's challenging when I give talks on street harassment and people come up to me afterward to share their stories, with real pain in their eyes, and I'm not able to give them the solution to the problem. I can give them suggestions for what may work, but there are no guarantees. I wish I had guaranteed solutions to give them.
You're a speaker, author, and activist. Do you have any advice for anyone who would like to take issues they are passionate about from an idea to action?
Yes, here are five pieces of advice.
1 – Research to find out if there are any ideas out there that are similar to yours. If so, decide how your idea will differ from them and focus on those strengths. This can help you hone your message and find confidence in your idea by knowing what new aspects you are bringing to the table. For example, I knew what other anti-street harassment websites existed in 2008 and I knew how mine would differ from those and why mine was necessary in addition to theirs and that gave me courage to start my site.
2 – Seek advice from trusted friends/family and from people who are knowledgeable on issues relevant to your idea. For example, when I decided to write a book, my mother, who is a fiction author, gave me advice for how to write a book proposal. Since a nonfiction book proposal is different, I also reached out to someone who had written a book on eating disorders whose book was outlined in a way similar to how I wanted to write my book. Even though I didn't know her, after I wrote to her asking for advice on writing a non-fiction book proposal on a feminist topic, she graciously sent me her book proposal and it was an immense help to me as I wrote mine.
3 – Once you start pursuing your idea, maybe it will be successful right away, but chances are, it will take time and some adjustments before it is. Don't give up and be open to making those adjustments.  When I first launched my blog, I didn't know anything about writing blog posts or how to market my website. I had about 100 page views for the whole first month and received only two story submissions. I kept at it and attended a few workshops on blog writing and online promotion and I watched what popular blogs were doing (e.g. getting on twitter, getting on Facebook) and I got better at writing posts and got more submissions once I learned more about how to do online marketing. It took more than a year before I gained a regular readership and began to receive a few stories a week. It would have been easy to give up, but I kept at it.
4 – Find at least 1-2 people who will have your back no matter what before you start pursuing something new/challenging. When you face obstacles or resistance (which you probably will if you're taking on a social justice type issue), it's so important to have people you can turn to for support and people who can help you brainstorm new ideas and solutions. I would not have had the courage to turn my ideas into a website or a book or pursued speaking engagements without the support of my parents, my male partner, and several close friends. When I've faced backlash or gotten discouraged, they help me through it and so I've kept at it!
5 – Let your passion guide you and don't be afraid to try new things or reach out to new people. I am a shy person and I was terrified of public speaking. Once I took on street harassment as my activism area, I started reaching out to total strangers to talk to them about it and I took public speaking classes to help me get over my fear of speaking in front of people. This year, I did media training to help me hone my message in media interviews. A few years ago, I never would have thought I could count among my friends amazing feminist activist leaders across the world or that I'd be giving talks to hundreds of people. But because I care about the issue so much, I've learned to take chances, try new things, be bolder, and overcome my fears.  
What/Who Inspires you?
The people who share their stories on my blog and all the anti-street harassment activists I've met inspire me every day. Their courage, vision, and boldness help keep me going. I'm also inspired by people who've created social change, including the many unsung women activists in the Civil Rights Movement, women in the 1970s who dared to challenge the social acceptability of gender violence, and people ended the social acceptability of locking up persons with disabilities. Of course, there is more work to be done to tackle racism, gender violence, and ableism, but we would not be where we are today with those movements without the unnamed masses of people who worked together to say, these social norms need to change.
What have been the Keys to your success so far?
Following the five pieces of advice I listed earlier and a lot of luck. I was lucky to come into the anti-street harassment movement at an early stage when there was a lot of need for activism and where there were a lot of holes I could fill. I am lucky I had skills to amplify my activism, including website skills, research and writing skills, and a foundation in women's studies and anti-violence issues.
Is there anything Else you'd like to add?
If you want to help address and end street harassment, start by simply talking about it with people. It's a problem that's been so normalized that it's often hidden. Breaking the silence by sharing stories and talking about it brings it forward; it helps us see it as a societal problem rather than an individualized problem and it helps us realize it happens to people we care about. That realization often motivates people to do something about it.
For more information, feel free to visit StopStreetHarassment.org
http://twitter.com/#!/Relando_T/status/146108846996324352
http://twitter.com/#!/N_A_H_Blog/status/146094888323252225
If you know any People Who Inspire that you would like to be featured in the series, just fill out the contact form here.
Grace & Peace,
From Aspiring Humanitarian, Relando Thompkins, MSW
—————————————————————————————————————————
—————————————————————————————————————————
Get New Notes in Your Inbox