Create Your Personal SWOT Analysis
At times, the everyday demands of life can keep us so caught up in the details that we lose focus on the bigger picture of what we truly want to do with our time, and where we truly want to go.
Some roadblocks may be of our own creation, while others are beyond our control.
Regardless of how they appear, being intentional about how we respond to obstacles in our path can help us to gain perspective, change directions if necessary, and ensure that our thought processes and actions align with our values.
Mission drift is a term that is often used to describe periods of time when an organization deviates from its mission and intended purpose. Organizations critically examine themselves, make predictions for the future, and prevent mission drift by undergoing a SWOT Analysis.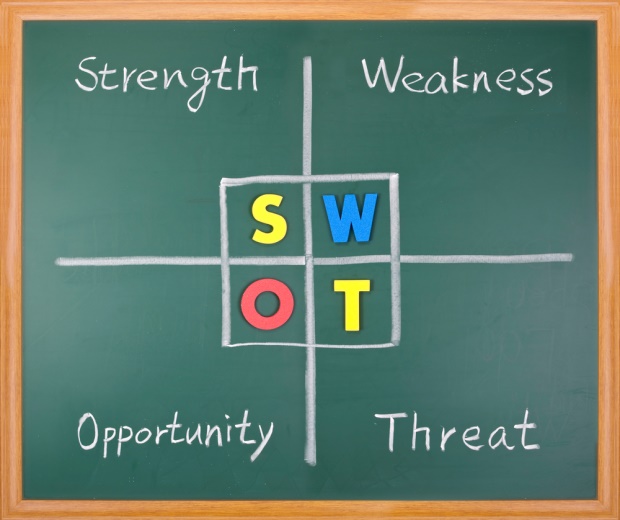 In a SWOT analysis, organizations identify their strengths, their weaknesses, opportunities that, if taken advantage of could increase their ability to live out their mission, and threats that could limit or prevent the continuance of their work.
Organizations do this kind of work all the time, and you know what? So can we.
Create Your Personal SWOT Analysis
The idea of the personal SWOT analysis was introduced to me last summer by Alfreda Rooks, Director of Community Programs and Services at The University of Michigan Health System, and can be applied to our personal and professional lives.
One way of doing it, with a few example questions to ask ourselves is as follows:
S

trengths:
What is going well? What comes naturally to me? What are my gifts and talents? In what areas do I excel? What makes me come alive? What is my personal mission?
W

eaknesses/areas for improvement:
What am I afraid of, and why? What areas do I need to improve on? What is it that I don't know? What doesn't come naturally to me, although I would like it to? Are there any obstacles that currently prevent me from living out my mission?
O

pportunities:
Are there actions I could take to increase my ability to live out my mission more authentically? How can I increase my awareness of what I don't know, but need to know? Who can I connect with, and what positive, mutually beneficial relationships can I cultivate that can move me closer to living out my mission, or reaching my goals?
T

o Do:
This is the biggest variation from what the SWOT analysis may traditionally be known to look like. Instead of thinking about threats, after you have examined what is going well, where you can improve, and what opportunities you can seek out, this phase involves creating a "To do list" of goals and activities.
Putting things down in this way can help to make your vision real, encourage personal accountability, and be helpful in identifying immediate needs, as well as intentional planning for the short-term, and long-term.
I see it as also being more strengths based, as the list could provide goals to work toward, and a perception of pursuing those goals as opportunities instead of obstacles to overcome.
Try it out for yourself.
Create your personal SWOT analysis. Whether you find (as some organizations do over time) that your mission may need to change or expand as you gain more knowledge and lived experience, or that the exercise has further affirmed your desire and focus to live out your mission as you currently define it, this self-reflective exercise is sure to make you think.
From Aspiring Humanitarian, Relando Thompkins-Jones, MSW, LLMSW
—————————————————————————————————————————
—————————————————————————————————————————
Get New Notes in Your Inbox