Fool: (A Rapper's Confession)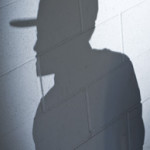 An oldie' but goodie', actually written in 2008 out of some of my frustrations with the promotion of negative images of African-Americans in hip-hop.
This is not a complete indictment of the art in its entirety however, as I know that there are some artists who produce music that can touch the hearts in minds of people in a positive way; music that either speaks to the social and political injustices of out times, or that simply serves as an uplifting or encouraging message for people who could really use the lift.
I can still find relevance in revisiting these old words today. Although the platform to promote positive images and/or activism still seems so small for artists who would take up the work,  it is up to us to seek out and support the positive messages that are so desperately needed to turn the tides and add a different perspective to the conversation.
[hr]
Fool: (A Rapper's Confession)
Real Talk….off the record…truth be told…..
I NEVER
Gangbanged or hustled;
Missed any meals….
Sacrificed or struggled.
I Never tried any drug,
Mixed any drink,
Or fired any gun.
ACTUALLY….
I love the Police,
And trust them completely.
No "stop snitchin'" for me;
We speak in the street.
I talk with them often.
This is neighborhood watch.
No this block isn't hot,
They've got jobs on my block.
(In the subdivision I live in)
OH YEAH
Back when I was shot 12 times?
Simple immunizations.
I'm far too smart…
Too clever to
Throw My life away…
And in my videos,
The boats, diamonds, and chains;
All rented you see.
And the "champagne":
Water with food coloring.
Look carefully,
No one ever takes a sip.
Cause it tastes nasty;
water and food color mixed.
All these things and more are me.
But you will never see.
For you have been deceived.
You eat the lies which
Testify the false life I lead.
I tell the opposite of me
And I put it to a beat.
And your daughters are impressed
And your sons are obsessed
With the task of becoming
This artificial image
I've so carefully
Constructed…
So be that Thug son..
Put your life on the line,
"Money power respect
Is what you need in life!"
So go buy…buy (my records)
Keep on linin' my pockets.
I'm livin' the good life,
based on some good lies.
So go buy buy (my records)
But I warn you.
Continue to mimic my disguise,
And you'll go bye-bye.
Old age you'll never see.
But hey, at least you aint
Go out like a punk right?
FOOL……
Grace & Peace,
From Aspiring Humanitarian, Relando Thompkins
—————————————————————————————————————————
—————————————————————————————————————————
Get New Notes in Your Inbox