Respect Others' Way Of Thinking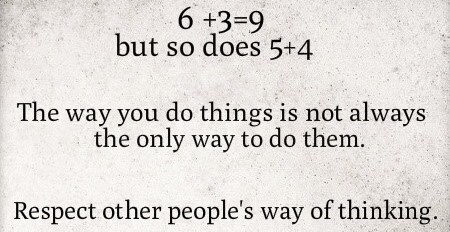 I love coming across messages that make me stop and think, and this was one of them. I started my Pictures With A Purpose category with the intention of collecting thought-provoking imagery, and the quote in this image has definitely earned its' place in that category.
I really love this message! What are your thoughts?
For further exploration, here are 10 notes about considering others' experiences:
On Communication: Debate vs. Dialogue
On Communication: Duplicates vs. Complements
Getting In Our Own Way: 2 Barriers We Contribute To That Limit Social Change
Non-Religious Belief ≠Lack Of Morality
Treat Others How They Want To Be Treated
Putting It All In Perspective: The Pale Blue Dot
When Things Aren't Working Properly, Invest Some Time In Unclogging The Pipes
On Internalized Racism: Moving From Anger To Compassion
Respecting Diversity In The Classroom & Beyond: Multicultural Guidelines
From Aspiring Humanitarian, Relando Thompkins-Jones, MSW, LLMSW
—————————————————————————————————————————
—————————————————————————————————————————
Get New Notes in Your Inbox