Path
As 2016 is set to close, I pause to think about my own path. At the beginning of 2016 I was in the process of leaving a position and applying my Social Work education and experiences towards continued study in the field of Educational Leadership in Higher Ed.
As the year progressed a spark of opportunity caused me to change directions, and I started a new role that is consistent with my vision and values and allows me to further live out my mission to build more equitable and inclusive communities.
I've found myself in a new environment, having left some personal and professional communities, while trying to establish new connections as I navigated this new opportunity. So much has happened during the transition that I am contemplating documenting my learnings and experiences with it by creating an entirely new blogging space separate from N.A.H.
Some of my family members and close friends died in 2016, and the world has lost people who many consider to be treasured within social and popular culture.
The racism, xenophobia, ableism, homophobia, transphobia, sexism, and other forms of bigotry that was affirmed and reinforced with the election of Donald Trump this year cannot be understated.
There's an activity called "Win All You Can" that I've used in some of my intergroup dialogue work where participants are split into smaller teams. One of the key components of this activity is how the participants define the word "You." Does the "you" who is trying to win mean you as an individual, as a sub-group, or does the "you" represent everyone as a collective whole?
As the game progresses, the more folks make decisions that benefit them individually, while they may earn some gains in the short-term, they lose out in the long-term. The more participants understand themselves as part of a larger collective and act accordingly, the more universal the gains are that are experienced.
2016 was a year when so many people were successfully convinced to vote against their own self-interests. This was a year when people made the conscious decision that white supremacy manifested through racism, xenophobia, ableism, sexism, classism, homophobia and other forms of bigotry were small prices to pay to restore some sense of loss of power or lack of attention, or collateral damage on the path to securing issues that were important to them.
As difficult as this year was, the struggle that is to come will require a sustained commitment from all of us who say that we value social justice.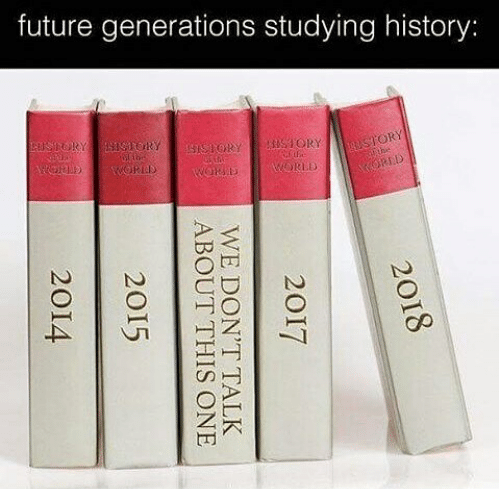 Lately I've heard 2016 being predicted as "the year we won't talk about" in the future. This phrase gives me the impression that this year has been so bad that we should just skip it; that we should erase it from memory.
Doing so would be a disservice to ourselves and to the lives who will inherit the world that is being shaped right now. Now is the time to remember exactly where you were, and exactly what you were/are doing, or not doing.
I do believe that there is a wrong side of history, and that time will bring things to bear. Not everyone who publicly claims today that they were a champion of human rights and social change movements of the past are telling the truth, just as in the future, many who openly or privately criticize movements like #BlackLivesMatter or other initiatives for social change today will be sure claim that they were all for it.
Let's talk about 2016 and the days to come and hold people accountable, including ourselves.
Now is the time to consider your path. In this coming year, I hope you find community and support, and ways to resist, however you can.
From Aspiring Humanitarian, Relando Thompkins-Jones, MSW, LLMSW
Get New Notes in Your Inbox