Photography 101 Day 2: Street
Today's theme for Photography 101 was "street", and all we needed to do was capture a street in a snapshot. Since I didn't have a chance to take any photos earlier today, I took a walk around campus after my night class.
To scroll through the collection of photos I took, you can either click on the left or right arrows on the picture above, or you can use your left and right arrow keys as well.
Out of all of the photos I took tonight, the main attraction for me is this one: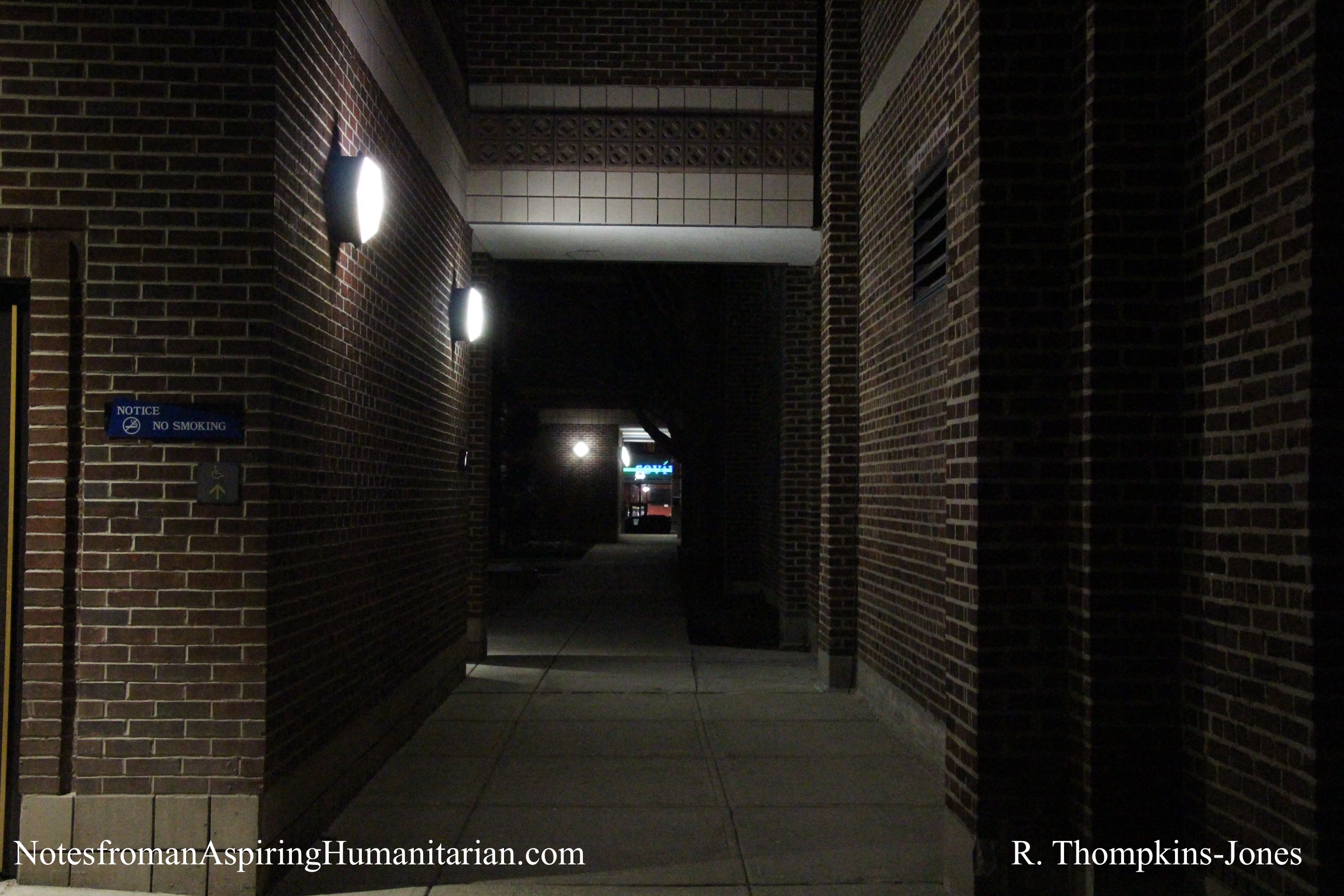 "In one of my video blog posts, I talked a little about how in thinking specifically about my social identity as a male (excluding race), I am generally not concerned about my safety when walking at night.

However many women must be concerned about traveling in groups, with a trusted friend, etc out of fear of being assaulted by men (generally speaking). However, I will say that as an African-American male, I am more concerned with being in the wrong place at the wrong time, or falsely accused by law enforcement or someone else and imprisoned for a crime I didn't commit than I am with being assaulted at night."
From my note: Barely Scratching The Surface: Thoughts on Social Identities, Power, Privilege, & Oppression
Yes, although one of my greatest fears remains being in the wrong place at the wrong time, falling victim to police brutality, or being falsely imprisoned for a crime I did not commit due to the marginalization that comes with being Black in America, when thinking exclusively about gender, one of the unearned advantages that my male privilege affords me is an assumed sense of safety.
Although campus was pretty clear at that particular time, I had no issues with walking through the alleyway in the picture above, or even pausing to take the picture itself. I had no fears that I would be attacked or assaulted due to my gender.
Yet, in many ways I benefit from a system that allows this to happen to women, some men, and people in the LGBTQ+ community.
This photo will continue to serve as a reminder of my own complicity, and my responsibility to engage with, and challenge other men about toxic forms of masculinity, power and control dynamics, rape culture and other manifestations of patriarchy and sexism.
From Aspiring Humanitarian, Relando Thompkins-Jones, MSW, LLMSW
—————————————————————————————————————————
—————————————————————————————————————————
Get New Notes in Your Inbox